Welcome to our April News…
We hope you all had a happy and safe Easter.  In this newsletter we will be exploring the key benefits to your company of working with us and meeting the next member of the Mann McGowan team; Lucy Scott, who organises everything and keeps everyone in check!
Kind regards,
Jamie Scott
Managing Director
Why choose Mann McGowan

*We have more than 40 years' technical knowledge and industry experience.
*We offer a flexible, efficient and cost effective service.
*We invest continuously in on-going research and development, constantly improving and extending our product range by introducing innovative seal solutions to an increasingly wide diversity of applications.
*We can provide the specialist skills required to check each and every fire door in your building – examining every little detail to make sure it's in proper order, clearly identifying any faults you need to rectify and even organising expert repairs or new installation wherever the need arises, giving you complete peace of mind.
*We offer bespoke and tailored product presentations and CPD presentations for fire, smoke and acoustic sealing for fire doors and glazing applications along with the benefits of using SW panels.
Meet the Team
Each month we are going to introduce you to a member of our team.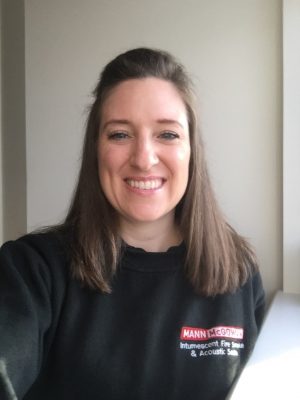 This month we meet General Manager, Lucy Scott.
How long have you been with Mann McGowan?
1 year currently, however I also worked for Mann McGowan 10 years ago for a total of 5 years
What are your hobbies and interests?
I enjoy spending time with my son and walking Poppy our dog when not working!
What is your favourite food & drink?
Chocolate, all types, and a good cup of tea!  I also enjoy malibu or fizz when out for a treat
Where is your dream holiday location and activity?
Maldives and being able to relax
What is your proudest moment?
Being a Mummy to Cameron