Welcome to our October News…
In this newsletter we are delighted to share with you the success of our Fire Door Safety Week campaign. This is such an important week of the year and we are proud supporters. We will also be discussing our extrusion seals and meeting Maxine Ford our longest standing Assembly Operator!
Kind regards,
Jamie Scott
Managing Director
Mann McGowan PVC extruded intumescent seals for fire resisting doors
Mann McGowan's Pyrostrip range of high performance fire seals incorporate a hydrated sodium silicate intumescent in a purpose-designed upvc sleeve – primarily intended for installation in fire doors, panelled doors and frame-to-wall gaps. The Palusol based seal Pyrostrip 100P has a white core of hydrated sodium silicate whilst Pyrostrip 500P has a dark grey Graphite core. Both have Certifire approval with a wide variety of door sets.
For more information click here or contact sales@mannmcgowan.co.uk
Fire Door Safety Week
We hope you all had a successful Fire Door Safety Week and took advantage of our special discount offer.
We are pleased to share that we raised £700 during this very special week which we have donated to The Grenfell Tower Fire appeal, helping those affected by this terrible disaster; 
https://www.justgiving.com/campaigns/charity/redcross/londonfire
Meet the Team
Each month we are going to introduce you to a member of our team. This month we meet Assembly Operator, Maxine Ford.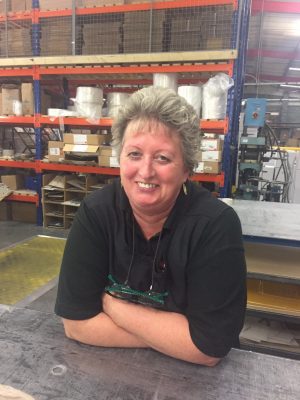 How long have you been with Mann McGowan?
29 years and counting!
What are your hobbies and interests?
Fishing and keeping my hubby happy.
What is your favourite food & drink?
Indian and Malibu and coke.
Where is your dream holiday location and activity?
Callas de Malloca in Malloca
What is your proudest moment?
Becoming a Grandmother to little Ilah