All of our intumescent products are tested to the relevant British Standard, details of which can be provided on request.
In addition, the majority of our products are also assessed by independent laboratories or accreditation schemes, including BM TRADA Q-Mark for the manufacture, specifying and installation of fire doors and Certifire approval for fire and smoke seals.
We're also ISO 9001:2015 accredited and a CPD provider – as well as being active members of the British Woodwork Federation, the Guild of Architectural Ironmongers and the Glass & Glazing Federation – all of which give customers further assurance of the quality standards to which we routinely adhere and the industry best practice to which we always strive.
CERTIFIRE is a voluntary certification for passive fire construction products designed to give confidence to specifiers, enforcement authorities and building owners and occupiers. CERTIFIRE is recognised by regulatory authorities both in the UK and overseas and is operated by Exova Warrington fire Certification Limited.
As part of the CERTIFIRE schedule products must:
add minimal resistance to opening and closing;
meet the requirements of BS 9999 when tested for smoke leakage according to BS 476 Section 31.1: 1983, even after an endurance test of 100,000 opening and closing cycles;
maintain consistent seal quality according to the disciplines of a recognised quality assurance scheme, for example BS EN ISO 9001: 2015;
prove long term performance under a variety of service conditions;
be permanently marked so they can be easily identified
In addition, under CERTIFIRE schedule TS35 the manufacturing process is subject to a more thorough auditing and more stringent production controls on the part of the manufacturer.
These measures ensure, only products demonstrating a consistently high quality and proven performance carry the CERTIFIRE marque.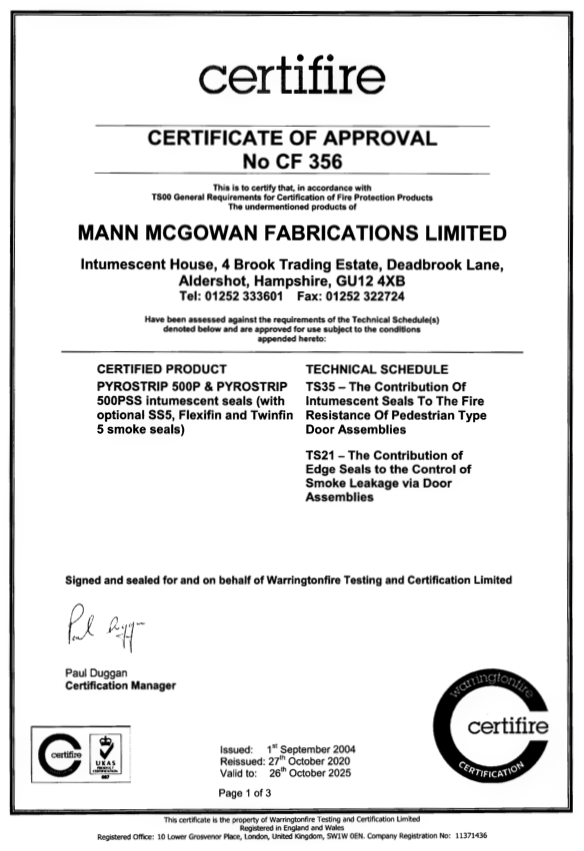 CF 356 Certificate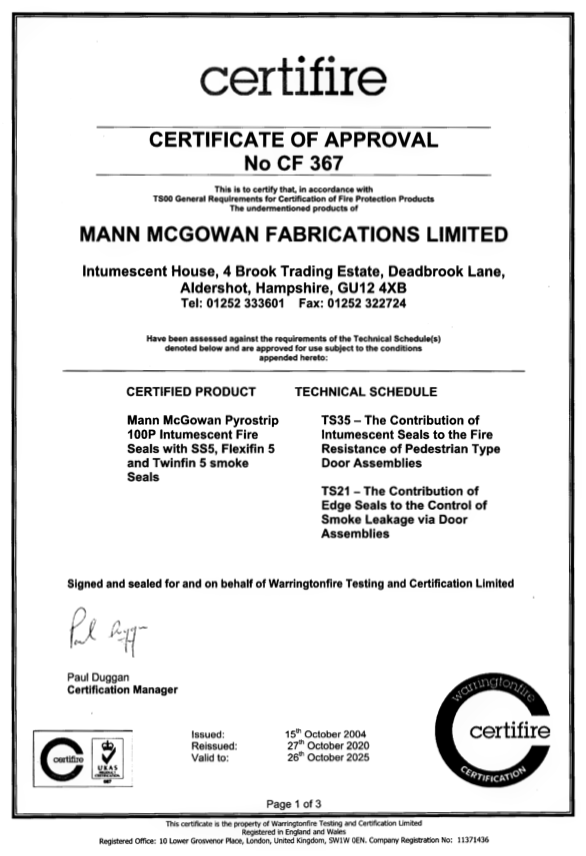 CF 367 Certificate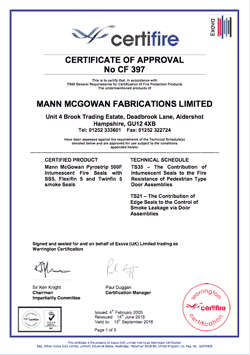 CF 397 Certificate