Welcome to our Spring/Summer edition…
I am pleased to announce that Mann McGowan has continued its growth, and along with proposed expansion plans, is hitting the ambitious expectations I set at the beginning of the year.
Since the MBO in December 2015 the company has taken significant positive steps; expanded the range of suppliers, increased staff numbers, improved production equipment all leading to an increase in our customer base. All of these activities combined have enhanced the diversity of the company, quality of our products and most importantly level of service to our customers.
I personally would like to take this opportunity to thank every single member of my dedicated team for all their hard work, our suppliers for their continuity and our loyal customers for your continued support.
Kind regards,
Jamie Scott
Managing Director
BWF Members Day
We were delighted to exhibit at the BWF Members' Day on 13th June 2018.
The conference covered all the critical things that joinery companies need to know including:
* Changes in the construction and general economy that will affect their business
* Technical and regulatory changes at national and European level
* Health & Safety best practice and guidance for complying with regulation
* Marketing, sales and boosting profitability
* New technologies, innovations and products
* Planning and preparing their businesses for maximum growth
Graphite Intumescent
Graphite Intumescent is a huge part of our business and we are proud to have our own formulation that was created by former MD Alistair Scott.
MD Jamie Scott has followed in his father's footsteps and is continuing to put forward this advanced intumescent product to the market place and the companies growing customer base.
Tried and tested in many applications over many years Mann McGowan's 500F Graphite Intumescent has been formulated with some unique characteristics. It's qualities include multi directional expansion, pressure forming, a solid core, regenerate with secondary or tertiary kick and large expansion capabilities.
The picture below shows examples of graphites currently out in use in the industry but sadly doesn't show the fundamental differences between the products.
The expansion difference between the samples is obvious. Other very noticeable differences include the amount of gasses given off when exposed to heat, the lack of body and core retaining the structure of the material and reaction time variations.
Expansion testing is an exercise we conduct at Mann McGowan on a regular basis as part of our factory process control. We like to also compare our graphite to others to ensure we are supplying the best possible product.
All these samples were taken from a standard 15x4mm section and cut to the same length before testing in a calibrated muffle furnace.
This clearly shows that all graphites are not the same!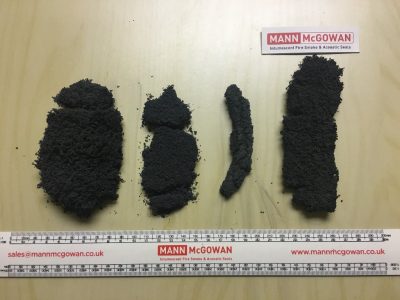 Meet the Team
This month we meet Production Supervisor, Neil Skittlethorpe.
How long have you been with Mann McGowan?
3 months
What are your hobbies and interests?
Outside of work I have an interest in different genres of music. I also play basketball for Woking a couple of times a week and my team was promoted at the end of this season!
What is your favourite food & drink?
I love a good burger and a beer! So far I think the best burgers I have tasted have been from Five Guys
Where is your dream holiday location and activity?
My dream holiday would be to go to the Maldives. It would be great to go diving there.
What is your proudest moment?
Getting top scorer in a recent game and the title of most valuable player in the same season.